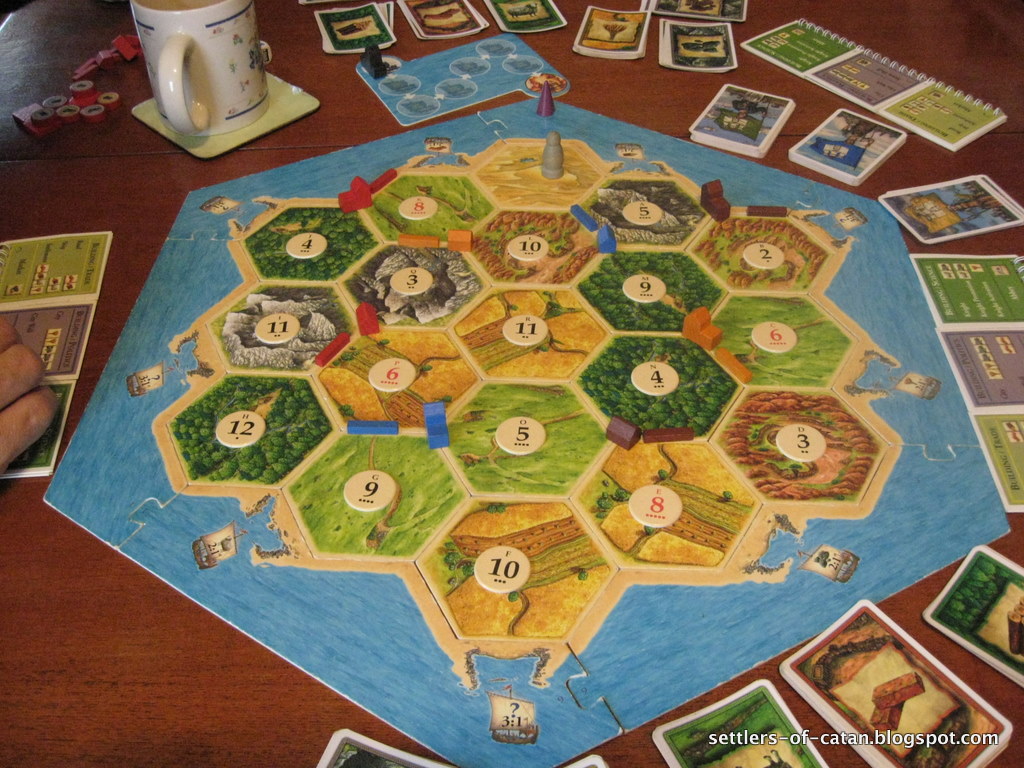 The slow week continues with only minor bits of news, in anticipation of the big Oscar bang no doubt:
Catan gaat bioscopen koloniseren
I've heard worse ideas for adaptations of games, board or video. Though most of either still fail to deliver decent movies, it's hard to deny. But at least
Settlers of Catan
seems to have more cinematic ingredients from which a proper movie can be distilled than the likes of
Ouija
or
Tetris
. You've got an enticing historical look, the potential of a sweeping plot of heroism and rivalry against insurmountable odds and the force of nature, plus dramatic elements like knights and bandits to spice things up a little. And of course, there's somewhat of a franchise potential, too. If the movie does become a success, there's the likes of expansion sets (Seafarers) or variations on the theme (Prehistory, or even more outlandish takes like Starfarers) to explore. And these days, every studio is aching to find franchises.
Settlers of Catan
might prove to become a solid movie. I just hope they don't throw in a silly random element that might alienate audiences from the original premise of the beloved game itself. Remember the response when
Battleship
felt the need to include aliens in the plot? I'd say
Settlers of Catan
has enough material going for it to do without such extra obstacles.
Jason Momoa's Aquaman onthuld
Now that shows like
The Big Bang Theory
have made a little too much fun of DC's King of the Seven Seas usual appearance and abilities, it comes as no surprise Aquaman needed a different, tougher look to overcome such popcultural bias. Casting Jason Momoa was a right choice in that regard, since you wouldn't want to get into a conflict with him about his style of dressing, it might be bad for your health. So no orange shirt, no green pants, and no riding sea beasts as a mode of transportation. You get a darker, grittier Aquaman, a regal appearance that screams 'don't screw with me!'. Basically it ends up looking like Khal Drogo with a Poseidonic motif, trident and fishy scales and all. It works I suppose, though it's not particularly coulourful or inspired. As for the meaning of the mysterious tagline 'Unite the Seven', beats me. I'm not into DC's comics enough to care to unravel its intentions. I'm a Marvel guy. I'll wait and see what exactly Momoa's Aquaman will be up to when he does his thing in theaters.
Winnaars Razzies bekendgemaakt
It appears the Razzies have found a new filmmaker to victimize. Though Michael Bay still won his fair share of awards, as is usual, it was Kirk Cameron that took most of the beating for his apparently dismal
Saving Christmas
, which was fortunately spared a Dutch release. I've never heard of the movie or the actor behind it, but when I see this flick on IMDb's Bottom Top 100 on the number 1 spot with a rating of 1.5, I get the picture. Okay, so there might be some hating hype surrounding the project that I don't know the details of. I'm not into Christmas themed films anyway, so I'll refrain from checking this one out. I've seen enough of these Razzie nominated movies for one year. I had to sit through both
TMNT
and the latest
Trannies
flick, which was quite enough of a borefest for me. Other than that, there's no real surprises among the winners here. Obviously Ben Affleck redeemed himself in the eyes of the Golden Raspberry Award Foundation, as he has already done so in the eyes of everybody else. Who knows, maybe Kirk Cameron will do the same some day, as the Razzies find somebody new to pick on.