Description: this large carnivore, the biggest dinosaur sculpt in Hasbro's toy line, measures a good 40 centimetres in length and stands about 20 centimetres tall. As far as the paint job is concerned, this dinosaur looks the same as the smaller Spinosaurus figure from this toy line. The overall colour is brown, with some darker tones mixed in to give it texture. A large white stripe runs across each flank from the back of the head to the upper legs. A smaller curly white stripe runs under the sail on his back, also on both sides of its body. From the nostrils to the very end of the tail (and over the top of the sail) a semi-golden stripe is found, most notably on the head and neck. Seven purple stripes adorn each side of the sail, along with small white specks. All of its claws are black, while the (somewhat small) teeth strangely enough sport a golden paint job (though an irregular variation with regular white teeth also exists). The throat and upper part of the belly are greyish blue and its eyes are green. A yellow JP III logo can be located at the base of the tail on its right side.
This creature's skin is largely made out of rubber, including the head and the sail. This is done to accommodate the animatronics. Only the legs and arms are made of the regular plastic material the other Hasbro toys are composed of: these limbs are also moveable. The animatronics' functions can be activated by pressing three buttons under the rubber skin, all on the right flank of this model. The first is located under the JP III logo, and produces an attack roar. The other two buttons are concealed under the exposed dino damage wounds (no larger Hasbro dinosaur would be complete without them unfortunately), either the large wound on the belly with the ribs sticking out, or the smaller one on the neck which shows muscle tissue only. Both of these produce a shrieking roar, as if the animal yelps in pain. Pressing any of these buttons activates the animatronic features, which make the creature move his head either up or down and open its mouth. While doing so, the inner mechanisms unfortunately make a rather annoying sound. (Note: the particular model used by the reviewer isn't in the best condition. The reviewer isn't sure whether the tail is also meant to move: in his case it doesn't.)
Analysis: this model looks impressive, especially for Hasbro standards, but has some downsides unfortunately. The paint job is nothing special, and of course very similar to that of the smaller Spinosaurus figure, so not much points for originality can be given either. The green eyes and gold teeth, something the smaller Spino didn't have, aren't an improvement. It's a good thing this sculpt has a formidable body mass and doesn't appear skinny like that model though. The body proportions of this model are quite good, though the tail might have been a tad longer. This Spino also suffers from Hasbro's dino damage curse, with a wound that can't be covered up and looks quite fake. Also a shame is the fact that the underside of the feet are plain smooth, like they forgot to make it have a dinosaur feel.
The most promising aspect of this model are supposed to be the animatronics. They are an interesting new feature and original as well, since no other JP dinosaurs had animatronic components. Unfortunately they don't work all that well: the movements the animal makes are pretty slow and artificial, and the mechanism inside the model makes a rather irritating sound when the animatronics are in use. The worst part however is that these animatronics are quite fragile and break easily; if you want to keep the animal in working order, it's better not to play with it at all. That's really a shame, because this is the only large carnivore toy of all toy lines that isn't a Tyrannosaurus and thus would make a worthy opponent for a large sculpt of one of those. But having a neat dinosaur battle with this Spinosaurus is definitely out of the question if you want to keep it intact. This model is better for dioramas than it is for actually playing with it. And that's a real waste for such an impressive looking model. Overall, it looks better than it is.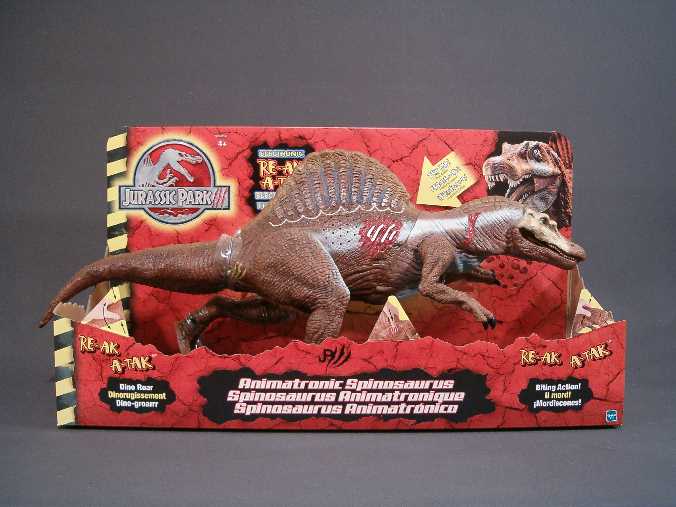 Playability: depends on what you intend to do with it. Like stated above, it's not done playing with it if you want to keep the animatronics working. Still, the animal stands in a neutral position and has poseable limbs, which would make it superior to most of the other Hasbro toys qua playability. Since it's such a cool looking toy I reckon most people are very tempted to play with it. Best solution for the collector seems to buy two of these: one to keep mint in box and thus in perfect condition, and one to play rough with it like everyone wants to.
Realism: it would be hard to mistake this creature for something other than a Spinosaurus. The sail and crocodilian jaws are a dead giveaway. It looks a lot like the main carnivore in JP III, thought the paint job is somewhat different. For one thing, the Spino in the movie didn't have gold teeth (and the teeth he did have were a good deal bigger and sharper as well).
On a paleontological level this sculpt looks a lot like an anatomically correct Spinosaurus (thinking pre 2014 at least, considering the current radical change in scientifically accurate Spinosaur depictions) as well, though the tail was a little longer in reality. In comparison to the human figures from this toy line, the size is more or less accurate.
Repaint: no. This model wouldn't be repainted either.
Overall rating: 7/10. Granted, the animatronics aren't very appealing (at least in my case, maybe they look better with a mint model). But it's still one of Hasbro's better models, especially because of its unique size (at least unique for this toy line and particular species). Even though it sucks the animatronics are so fragile which makes playing with it hard, and despite minor paint job flaws, it looks great and shouldn't be excluded from any JP fan's collection. It's not always easy to find though: it's relatively common in the USA, but in some other territories (like my native country Holland, where this particular model remains unreleased and is much sought after, often fetching high prices) it can be a real challenge to get your hands on one. Nevertheless, I suggest you give it a try.