-Pachycephalosaurus hatchling
Description: Roland is looking very butch sporting green dinosaur skin (including a dinosaur head) wrapped around his brown shirt. Apart from that he's also wearing ominously dark green pants (along with a knife strapped to his left leg), dark brown leather boots, brown belt and gloves, and a small neck collar made of bones. To top it off he's sporting a very black hat with the InGen logo at the right side. Roland stands in a fairly neutral pose with his right leg outstretched to the right.
He carries a very large metallic looking device called a Dino Stun Prod. It's painted metallic dark grey with silvery highlights on both ends. On the front end these consist of two large "claws" surrounding a smaller electronic looking device. On the back end there's a button: when pressed the claws swing open and the front end sticks out, knocking anything it hits over with some force. The apparatus is almost as big as Roland himself. He can hold the device by sticking his arm in it, making it appear he's got a bionic arm of sorts. When holding the weapon he can only stand by leaning the thing on the ground, otherwise he topples over. Roland has a second weapon, a small metallic grey knife.
The Pachycephalosaurus hatchling stands in a ferocious attack posture, ready to knock anything it comes into contact with down. Its body is fully outstretched with its head lowered and its skull ready for head butting: his legs stand in a running pose. The animal sports a light green paint job, with its back, tail and upper legs adorned with dark green stripes. Its underside is coloured yellowish beige. His thick skull is painted pinkish red with a large beige spot in the middle, and his eyes are beige with black pupils. A yellow JP Site B logo can be found on his right upper leg, hardly noticeable.
Analysis: Roland has quite a presence with his eerie outfit confirming his reputation as a great white hunter. Unfortunately, the dinosaur skin is just a bit too campy, especially the face with the oversized nostrils. It would have been better not to have Roland sport such dinosaur leather, it's kind of ridiculous. Other than that his outfit looks pretty swell, especially his dark hat.
The weapon isn't very special. Though it's fun to have it spring open, it just doesn't feel right. It's simply oversized, making it unrealistic, and its look isn't very appealing. Also, it only does damage to any dinosaur standing right in front of the weapon, and it only works on smaller dinosaurs, like hatchlings. It doesn't do anything to larger figures. It's just hard to think of Roland using such a weapon to hunt dinosaurs with; it would have been better if he had the gun we saw him carry in the movie, or at least a weapon firing stuff. The knife is a neat little bonus though: it looks good and feels like something Roland would use.
The Pachy is a fierce little devil. It looks ready for action even though it's just a hatchling. The paint job is good enough and resembles the colours of the larger Pachycephalosaurus (the medium size Pachy that is, not the biggest of the three this toy line featured), adding some consistency to the line. Still, it doesn't really look like a hatchling, apart from its big eyes maybe. It looks more like a smaller version of an adult Pachy. But it's a good little figure anyhow.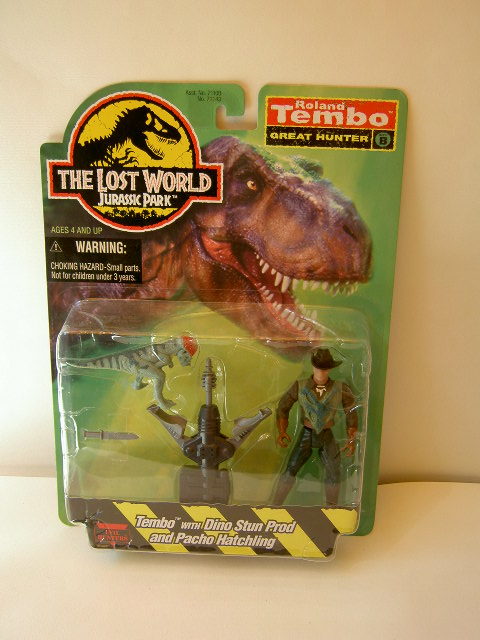 Playability: it could have been better. Roland has the usual poseable limbs and a decently neutral position too. The weapon however doesn't add much action options: the knife is a good little addition though. The Pachy's active pose limits playability somewhat, since it's basically usable for action only. It would look good in dioramas though.
Realism: though the dinosaur skin is really cheesy, the rest of Roland's outfit isn't farfetched and looks like something Roland might wear on hunting trips. It's not the same as what he wore in the movie though; the outfit worn by the exclusive Roland figure that comes with the D.A.R.T. looks more like it. Still, the head sculpt sure looks similar to Pete Postlethwaite's facial features, and the hat isn't far off either. Though there was a stun prod in the TLW movie, this weapon looks nothing like it: it's much bigger and more complex in design. The knife is more realistic.
The Pachy looks a lot like a Pachy in defensive mode might look like, though it's doubtful hatchlings would also behave like this. But as said above, this sculpt looks more like a small version of an adult Pachycephalosaurus than it resembles a juvenile. It's quite anatomically correct, though it may be missing some fingers.
Repaint: no. The figure, hatchling and weapons would not be repainted for later toy lines either.
Overall rating: 6/10. The figure and hatchling are decent enough, though both have some aesthetic downsides. The weapon isn't great and doesn't fit Roland's character: the knife can't help it be better. This figure isn't hard to find, nor should it prove very expensive if you run into it.