Frankenweenie: ****/*****, or 8/10
Moviebuffs familiar with Tim Burton's oeuvre will probably remember how one of his earliest projects for Disney backfired on him, though it ended up setting him in the right direction for a very fruitful career. In 1984 Burton directed a 29 minute family film named Frankenweenie, an homage to the iconic original Frankenstein films from the Thirties, involving a boy who loses his beloved dog but revives him via electricity, to the shock of his neighbourhood. Though it was a simple horror story for all ages, Disney was dismayed and deemed the short film too disturbing and scary for its target audience, denying it a theatrical run (but for some reason still giving it a home video release). Burton was fired from the studio and looked for jobs elsewhere, soon setting himself on the right track as he directed a number of smash hits, including Batman (1990), Edward Scissorhands (1990) and Batman Returns (1992), eventually becoming a major player in Hollywood despite (or because) continuing to utilize his own unorthodox visual style and displaying his love for outcasts and their encounters with the bizarre. Leaving Disney may have been the best thing that ever happened to Burton, but it didn't stop him from revisiting the failure that basically started his career, remaking his own short into a theatrical movie in an even darker and more off-beat fashion 28 years later, but still for the same Walt Disney Studios that didn't think much of him or his work all those years ago. Apparently Burton's acclaimed career, plus an earlier cooperation between the pair when doing the highly successful Alice in Wonderland (2010), ensured Disney gave Burton the benefit of the doubt and the chance to bring Frankenweenie back to life in an even more spectacular way than the dog in the story is reanimated.
For despite the film now running 87 instead of only 29 minutes, surprisingly little has changed in terms of story.

Warning! Spoilers!

The protagonist is still a little boy named Victor Frankenstein, a nerdy and imaginative kid whose best buddy in the whole world is his dog, called Sparky (there's more than a little 'nomen est omen' in there somewhere I reckon). Together they do anything from just playing around on the streets to making home movies wherein the canine stars as a dinosaur slayer protecting cardboard cities from plastic monsters. Of course with hobbies like that, Victor isn't the most popular kid in school, but as long as he has Sparky, he doesn't mind. But soon, tragedy strikes and Sparky is fatally run over by a car and laid to rest, leaving an inconsolable Victor all alone, despite his parents' assurances Sparky moved on to a special place in his heart. However, when he learns of electricity and its effects on dead tissue at school, the boy turns to the dark art of science to bring his pet back to life by having its soulless body struck by lightning. Against all odds, the experiment is a success and his best friend is given a second chance at life, though not in a perfect physical state as parts of him occasionally come loose. Despite his efforts to keep Sparky's resurrection a secret, the rest of the town soon finds out and is appalled by this abominable obstruction of everyday life, turning into a typical angry mob out to make sure the dead dog stays dead this time. Tracking the pair to an old windmill, the construction catches fire and traps Victor inside until Sparky gives his second life to save his young master. Touched by his courage, the townspeople are convinced Sparky deserved to live, after which they help Victor restoring him to life once more in a total feel-good happy ending only Disney can deliver (though it's maybe a bit too cheerful for a Tim Burton picture).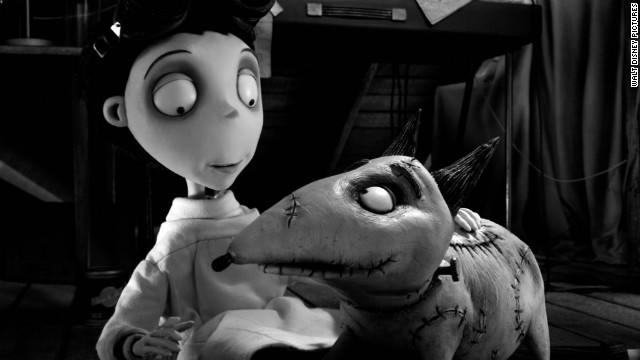 Though the plot has hardly changed, there couldn't have been a bigger difference in execution, as Burton turns to the much admired art of traditional stop motion animation for his second incarnation of Frankenweenie. Hardly a stranger to this type of filming, having produced The Nightmare Before Christmas (1993) and directed Corpse Bride (2005) before, Burton's use of stop motion turns out fully justified as it gives the movie a stylistic and visual edge over both the movie's predecessor as well as many a "regularly" animated Disney movie. The film's look is simply stunning, with some of the smoothest stop motion work to date, and it also fits into Burton's oeuvre in a completely consistent manner: the various characters, both human and animal, are all typically Burtonesque with their big eyes, pale faces and generally caricaturized physical features, while their brooding, often Gothic surroundings make no mistake Tim Burton's signature stamp is all over this film. Frankenweenie might as well be called Corpse Bride's twin sister, were it not for the fact that, unlike that film but like the original short, Frankenweenie is also shot in black and white to make it appear even more distinct, as well as perfectly in sync with the horror classics of old – particularly James Whale's brilliant original Frankenstein (1931) and The Bride of Frankenstein (1935), to which the movie knowingly owes more than a little, on the narrative side – the movie keeps referring to throughout the piece. While many a gag referring to such narrative and stylistic forebears, albeit visual or in dialogue, is undoubtedly missed by younger members of the audience, those even slightly versed in the genre will recognize a multitude of little nods and in-jokes softening the overall gloomy mood the style and story prescribe. That doesn't mean there's no fun to be had for the kids or the more uninformed spectators, as they too are treated to many an outrageously zany moment triggering a few good laughs.
At the same time, despite the many humourous occurrences, the movie isn't afraid to downplay its moments of grief, and much to the credit of the animation crew such instances are shot with the full range of emotion they necessitate, making even the toughest viewers feel sad as we witness Sparky's death – which fortunately remains largely obscured from vision, instead of seen in more detail than is necessary, underscoring the power of suggestion which Burton has also mastered – and the sorrow it inflicts on those left behind, the high point of tragedy remaining a simple shot of Sparky's neighbour dog, a female poodle with whom he used to play ball through a hole in the fence separating them: the poodle nods the ball through the hole, then waits for a return nod that never comes. Maximum emotional effect achieved through stylistic simplicity, and nobody ought to keep a dry eye.
Despite the overall story remaining largely identical to that of the original short film, a longer running time does warrant the inclusion of a few subplots to flesh things out just a bit more. The most noticeable difference in narration is the science contest dominating events in Victor's class as his school mates are all attempting to outthink each other in making the most spectacular contribution to science, encouraged by their new substitute teacher with his unpronouncable but decidedly Eastern European sounding name (impeccable voicework done by Burton veteran Martin Landau, who won an Academy Award for his role in Burton's masterpiece Ed Wood (1994)). When the word gets out on Victor's achievements, even though they were a personal project to be kept hidden from the rest of the town, the all too natural reaction of the other kids is imitation, as they understandably decide to resurrect their own deceased pets as well. However, their actions are motivated more by the desire for fame and glory than they are by heart, while their teacher explained to Victor the outcome of his experiment was fueled primarily by the love for his subject instead of the lust for self-enrichment. Naturally, the various rival experiments result in the creation of many monstrous mutations soon terrorizing the town, including a cat/bat hybrid and a giant dinosauresque turtle, enabling Burton and his partners in animation to go all out with the stop motion process, continuing the age old tradition of stop motion applied for breathing life into monsters, as pioneered by special effects legends like Willis O'Brien and Ray Harryhausen. It also results in a grander overall scale of the film, clearly setting it apart against the simpler original short movie, plus it adds some dynamic action for those audience members who find it hard to sit through all the genuine emotion the movie keeps evoking, if any. Ultimately though, Frankenweenie doesn't need such spectacle since its core plot about a boy and his dog is moving enough in itself and remains the picture's heart and soul, despite the additions made to make a short film longer.
Only a few months ago, I critiqued Burton's Dark Shadows and feared his signature style was overused by himself (and nowadays, by many others, too), which led to a deterioration of quality in his recent films, culminating in Dark Shadows ending up as one of Burton's biggest disappointments of the last decade. I'm only too glad to find myself positively surprised by Frankenweenie, one of his most delightful films to date, which has proven this director is still fully capable of delivering a satisfying viewing experience when his heart is truly in it. Getting even at Disney while coming full circle from the start of his career to the point where he is now clearly made sure Burton was fully invested in this project, and he is proven right after a quarter century: Frankenweenie was a thoroughly enjoyable short movie then as it is a full theatrical film now, for audiences both young and old. Apparently, in Burton's case revenge is a dish best served dead, and revived.

Sidenote: life is not without its cruel little ironies. For example, I got to watch Frankenweenie the same week I had to let go of (yet another) one of my cats. 2012 is not a good year for me, pet wise. Since I happen to like animals more than people – if you know me and this notion offends you, don't take it personally, it's just the way I am – I'm having some trouble letting go, even though it wasn't my favorite cat. In fact, the pet in question, poor little Akka, was always drooling, generally unhygienic and somewhat obnoxious, but I still loved her in her own right, and I will naturally miss her presence (unlike the other cats, who don't seem to miss her at all). Considering Frankenweenie revolves around the troubles of letting go of your beloved pets, it got me thinking. If I were a creative little boy and I lived in Tim Burton's imaginative world, I no doubt would go for the solution offered in the film and resurrect the hell out of my dead cat. However, I am not and I cannot, and even if it were scientifically feasible, I would not. Especially not after the animal in question had been rotting underground for a week (even if protected by the cover provided by a wooden box, as Sparky was given). After all, letting go when somebody or something dies is just a part of life, the dark side of life of course, but still life.
What would be achieved by keeping dead animals alive? Sure, you can stick to their presence forever, but would it really be the pets you knew and loved? As Frankenweenie showed, Sparky's resurrection, instigated by love or not, was the result of a lucky shot, while the same experiment failed with all the other ex-pets. Monstrous mutations were the result, creepy crawlies and towering behemoths that looked nothing like their living predecessors. Moreover, if they had been healthy and happy like they used to be, death would lose its impact. You could just keep on recharging your dead pet to breathe a semblance of new life into it over and over again, which would keep you from letting go and forming new special bonds with other animals. But of course, new animals would still be born, and soon the number of zombified creatures would grow to excessive rates and leave less room for the living. Death may not be a nice thing, but there is a definite natural purpose to it. My cat had a decent life for over 16 years and she got to live to a fair old age. It's more than I can say for my previous cat, who succumbed to organ failure at age nine, which was far too young for my taste. Instead of focusing on resurrecting pets, it seems more reasonable to turn attention towards extending the natural lifespan of pets, which usually lasts for only one or two decades, while their masters' life outlasts them for many more years. For the same reasons as stated above I feel it shouldn't be attempted by artificial means though. Besides, natural human lives last far longer nowadays than they did centuries ago. I reckon the same is increasingly true for pets' lives, who receive better care and food than they did in days gone by. Who knows, with a little luck cats will eventually live for many more years than they do today. And if not, the memories of a good cat will last a lifetime in that special place in our heart. Even though we would have preferred them to stay here with us in the flesh...
And watch the trailer here: